Colonial Crest is Muncie's best and largest apartment community. Located on the desirable west side, near Ball Memorial Hospital and Ball State University, you will find the rental rate very affordable. Effective 12/20/2018 Prices begin at $630 per month for our 1 bedroom apartments. Two bedroom apartments with ample closet space start at $680 a month (Updated $725 per month), and the two bedroom townhouses with a bath and a half and laundry connections are $780 per month for 1 year leases. A Studio apartment with W/ D hookup are $630 per month. Our 3 bedrooms when available are $955 per month for a 1 years lease.  We offer short term leases as well for another short term fee additional to those base rents 3 – 6 – 9 – 12 Month Leases Available..
Our Application Fee is only $30 to process your background / credit checks to get approved for the apartment you want. Once that's approved we would ask for your $400 Security Deposit paid to hold an apartment here for you until your scheduled Move In date. It's just that easy! We are also Pet Friendly call Office to find out details at 765-289-0565. Also like us on Facebook!
A few units have been luxuriously furnished for short term stay. These units feature whirlpool tubs, marble tile, and are fully appointed as a fine, newer hotel. The benefits are that these one and two bedroom units, with a fully equipped kitched, serve the individual or family needing more than just a hotel room. These extended stay units are rented by the month or longer. Call for details. If you plan to be in Muncie for at least a month this is a bargain while having the most luxurious suite in the county.
SPECIALS: Courtesy Promo 10% off for Employees of: Fire Dept., Police Dept., Military, Ball Memorial Hospital, Ball State University (Not Student Discount) Limited Time!  Standard Style!
NO APP FEE Effective 1/8/2019 Expires 1/31/2019 that's a $30 Savings. Also LIMITED TIME New Applicants 1 Year Lease ONLY get a standard style 2 bedrooms 1 bath for the price of the 1 bedroom 1 bath renting for $630 per month.  While Availability Lasts! Call Office for details. 765.289.0565 That's another $50 per month savings!
Stability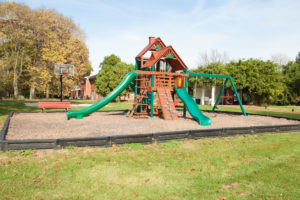 Colonial Crest is the stable, professional apartment in Muncie. While others change their property ownership, name, and staff; The ownership and staff of Colonial Crest remains constant with some employees with over 20 years of continuous service. That professionalism and service gives us the quality reputation in the Muncie area. The serenity of our community results in referrals from all segments of the population. Service and reputation along with affordable rents make us the wise choice. We rent apartments in the traditional manner (not per bedroom as others do).

Grounds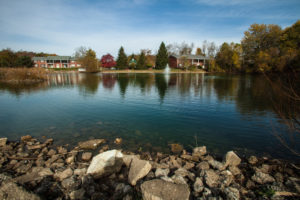 The traditional colonial style buildings sit on 47 beautifully wooded acres designed by an arborist. A duck pond, fish stocked (catfish, bluegill. bass), with a beautiful gazebo is one of the most relaxing spots in the county. Of course, amenities include swimming pool, jogging trail, volleyball, convenient laundry facilities, newly added playground for the kids. One visit will assure you that Colonial Crest is the best.